4 Free Agents For The Buccaneers To Target
March 8th, 2019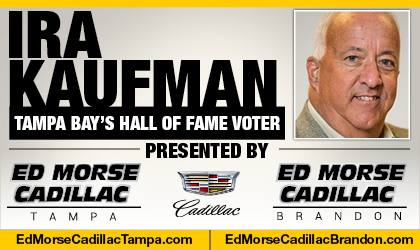 BY IRA KAUFMAN
We're less than a week away from NFL free agency, otherwise known as "buyer beware" time.
Teams usually don't get younger when acquiring free agents, but the idea is to get better and Bruce Arians can't wait to dip a cleat into this available talent pool.
Unlike other years, the Bucs aren't blessed with an abundance of salary-cap room, so Jason Licht and his staff will be digging for value. Here are four free agents who can help at One Buc Place without breaking the bank.
DB Kareem Jackson
I didn't list Jackson as a corner or safety because part of his appeal is his effectiveness at both positions.
"Kareem had a really good year for us," says Houston coach Bill O'Brien. "He's a versatile player. He's a guy that has leadership qualities. He's been with us since the day I walked in here. He's an original Texan and has had a good career here."
Jackson was a first-round pick in 2010 and has played his entire career with the Texans, who annually rank among the league's better defensive teams.
His 2018 season was one of his best. At the age of 30, Jackson posted 87 tackles, including five for loss, two interceptions, 17 pass breakups, two forced fumbles, a fumble recovery and a sack.
If Tampa Bay can close the deal with Jackson, Todd Bowles would be getting a veteran who can play slot corner, outside corner or safety. Jackson, who made a base salary of $6.5 million in each of the past two seasons, could serve as a mentor for a young secondary desperate for leadership.
OLB/DE Za'Darius Smith
Another versatile defensive player, Smith was very productive for the Ravens last season, despite starting only eight games. With a team-leading 8.5 sacks, 45 tackles and 25 quarterback hits, Smith has the potential to be a very disruptive player in Bowles' aggressive system.
Smith is just entering his prime, turning 27 in September, and those 10 tackles for loss in limited playing time suggest he's on the cusp of being a big-time force.
"Za'Darious is tenacious," Ravens coach John Harbaugh said at last week's combine. "He brings it, man. He's a high-energy pass rusher. He can line up at any one of the four spots and he can bring it. He can blitz, he can drop as an outside 'backer. Very versatile player, but more than anything, I just love his intensity level."
There will be other suitors for Smith, who earned a base salary of $1.9 million in 2018, but the Bucs need to take a long look at him as an intriguing fit.
RB T.J. Yeldon
Once Leonard Fournette came aboard as a first-round pick two years ago, Yeldon's days as Jacksonville's primary ball carrier were over. That doesn't mean he can't be a productive back for the Bucs, especially on third down as a legitimate threat out of the backfield.
Since Charles Sims went AWOL after a superb 2015 season, Tampa Bay hasn't had the luxury of pairing Jameis Winston with a back who can consistently turn screens and short passes into key gains.
And given the shaky hands of rookie Ronald Jones, Yeldon makes sense on the depth chart behind Peyton Barber. He averaged 8.9 yards on his 55 catches last season, reaching the end zone four times.
Yeldon is only 25 and he just finished up his rookie contract. He doesn't figure to generate big money as a free agent, but he can contribute significantly on the money down.
QB Trevor Siemian
Only 27, Siemian did not take a single snap last season as the backup to Kirk Cousins in Minnesota. He's smart enough to realize his days as an NFL starter are behind him, even though he went 13-11 in Denver before he was traded to the Vikings a year ago.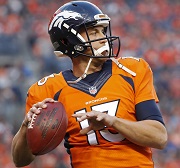 Siemian would project as a capable backup to Winston, but not a threat to take Winston's job should No. 3 endure a difficult stretch. That's a favorable scenario as the Bucs move on from Ryan Fitzpatrick.
Ira Kaufman began covering the NFL as a New York Giants beat writer in 1979. He arrived on the Buccaneers beat in 1985, and the corporate leash finally was removed from his neck when he joined JoeBucsFan.com in July 2016. The award-winning Ira Kaufman Podcast fires twice per week, and Ira's columns appear thrice weekly, except when Ira is on special assignment. Tampa Bay's only Hall of Fame voter also is a popular guest on various national radio and on local TV. He's also co-host of TAMPA TWO at The Identity Tampa Bay, which returns to its regular format in March.