When Idiocy Trumps Accuracy
February 12th, 2019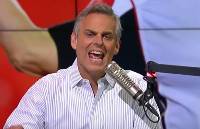 This is where we are in America these days.
Yesterday, some angry reader blasted Joe in the comments because Joe had the gall to quote a former NFL suit who thinks the Bucs' roster is terribly overrated by none other than the Bucs themselves.
Joe assumes this same person — the points made in the story are valid questions — is more interested in interesting takes than something rooted in accuracy or facts. Joe doesn't traffic in nonsensical throw-s(p)it-against-the-wall garbage.
This leads Joe to Colin Cowturd, a guy who can be seen and heard on FS1 weekdays, a guy who likes to brag he's not concerned much with accuracy but he does want to be interesting.
(Joe's reaction is the same reaction for these NFL mock draft mockers who change their minds weekly and who scoff at critics and say they have no interest in accuracy. Why the hell should Joe waste time with something that has no basis in fact or logic? What the hell is the point?)
Despite the Bucs stating over and over that America's Quarterback, Pro Bowler Jameis Winston, is their quarterback — Bucs AC/DC-loving general manager Jason Licht and Bucs coach Bucco Bruce Arians have stated this repeatedly; Bucs offensive coordinator Byron Leftwich even shut down a reporter at his introductory press conference who was trying to ask about someone else playing quarterback — it means no difference to Cowturd.
Yesterday, in the wake of Oklahoma star quarterback and Oakland A's minor league outfielder Kyler Murray announcing he's going to forego baseball to play in the NFL, Cowherd took to his national platform and said the Bucs should consider drafting Murray at No. 5 overall.
Not only does this go against everything the Bucs have said publicly, it goes against common sense and logic, not to mention reason.
Does Cowturd really believe Murray would start over Jameis at quarterback, seriously? That's a laugh. Now if Cowherd tried to make an argument that Murray could be used like a slash player, part running back, part-receiver, part-quarterback and maybe move on from Jameis if he struggles this season, then OK, that makes some sense.
But if the Bucs tried that stunt, you think Murray would ever sign a contract with the Bucs? Then you are looking at a whole 'nother Bo Jackson situation on your hands. Brilliant!
Yet Cowturd can spew this nonsense and noise pollution throughout the land and get paid millions of dollars to do so! 'Merica!
What next, will Cowherd suggest the Bucs draft Ohio State quarterback Dwayne Haskins because he's a running quarterback?
"Keep your eye on Arizona. If I was the Bucs at 5, I'd consider drafting him. If I was the Jaguars at 7, I would draft him. Jon Gruden said he loves him, Raiders have the 4th pick."@ColinCowherd says Kyler Murray made the right choice choosing the NFL pic.twitter.com/7DUiMhjH1W

— Herd w/Colin Cowherd (@TheHerd) February 11, 2019