The Bucs & Jordan Mills
February 18th, 2019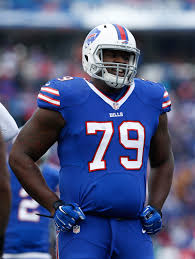 Joe has spent a little time, but not a ton yet, on the potential monster-impact free agents for the Bucs like linebackers C.J. Mosley and Anthony Barr.
Joe's been very busy diving into smaller name free agents.
One is the Bills' starter at right tackle who hasn't missed a start over the past three seasons. He's Jordan Mills, five years younger than Demar Dotson and known to be one of the physically stronger right tackles in the NFL.
In Buffalo, there's been a massive roster purge. Only five players remain from their 2016 roster. One is Mills and he's set to hit free agency in three short weeks. Mills was earning $2 million per year over the last two seasons, so it's a safe bet he wants a raise for his durability and performance.
No, Mills is not a great player. Joe's read various mixed reviews of him in Buffalo, where the Bills have had a punishing running game two of the past three seasons. If Mills was so bad, how would they have pulled that off? How would he have survived multiple head coaches?
Also, Joe finds it interesting that Bills head coach Sean McDermott fired his offensive line coach and friend, Juan Castillo, after this season.
Mills' career is one of a late-bloomer. A fifth-round pick of the Bears in 2013, he started his first two seasons and then was cast aside. Injuries propped him to the Bills' starting lineup late in the 2015 season and he's held on to the job.
This is where the Bucs' scouting department and Bruce Arians need to earn their money. Is Mills potentially a cost-effective and younger replacement for Demar Dotson, as well as a guy who could improve in the Bucs' new offense?
Joe thinks the Bucs should be studying Mills. Durability has a lot of value and new blood not mentally drained or broken from years of losing is needed on the roster.