The Bucs And Anthony Barr
February 10th, 2019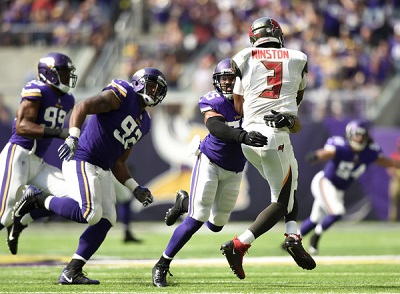 One of the great wild cards in this year's free agency class is superstar durable Vikings linebacker Anthony Barr.
How sweet he would look in the Bucs' new blitz-happy defense.
Coming out of UCLA in 2014, the No. 10 overall pick was pegged as a 3-4 linebacker at 6-5, 255 pounds with tons of athleticism. But he went to the Vikings with new head coach Mike Zimmer and his 4-3 scheme. There Barr has made the last four Pro Bowls, and he's missed just nine games in his five-year career.
His contract is ending and he's turning just 27 next month, Barr will break the bank and the Vikings might not be able to afford him, a byproduct of their loaded roster and expensive quarterback.
Raise your hand if you'd love to see the Bucs go with a 3-4 defense with Barr and Lavonte David rushing the passer in Todd Bowles' highly-aggressive scheme. Joe's hand is up.
Being a great coach is about maximizing talent, and Barr might be the most talented player likely to hit free agency this offseason. He's certainly got more juice than injury-prone Kwon Alexander.
Joe would have no problem if the Bucs' big bold move to fix the defense in March added Barr to the roster.
Joe gets that many fans are clinging to traditional thoughts of the Bucs running a 4-3 defense and fan favorites like Kwon and Gerald McCoy. However, change is inevitable and Joe has no fear about blowing up one of the most dreadful defenses in Bucs history.
Bruce Arians says he is not in rebuild mode, but he's not talking about the defense when he says that. Joe can promise you that.