The Arians-Monken Clash & Jameis Winston's Bad Mechanics
February 14th, 2019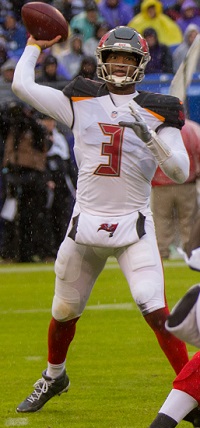 Back in November, when howls about shoddy mechanics from the arms and feet of America's Quarterback, Jameis Winston, were a popular topic, then-Bucs offensive coordinator Todd Monken said he wasn't seeing it.
You can flash back to Monken's words here.
Was Monken being honest?
Hours prior to Monken's take came former Bucs and Patriots QB Jeff Carlson explaining Jameis' feet are all screwed up and the Monken-Dirk Koetter offense was a bad fit for him. Carlson has been privately coaching QBs since leaving the NFL. And Carlson wasn't the only expert saying this.
And now comes new head coach Bucco Bruce Arians basically telling TampaBay.com that Carlson is on the money.
"I've studied a bunch of [Jameis' throws],'' Arians said. "[QB Coach] Clyde [Christiansen] has watched every throw he's made since his rookie year and Byron [Leftwich], too. And it's like you're trying to look safeties off too long and your feet are crossed. So much of it is mechanical.''
So here are the money questions: Is Arians dealing with a franchise QB who isn't very coachable? Or is Jameis "coachable" but just not getting it? Or was Jameis being poorly coached by a combination of his private QB coach, Koetter, Monken and ex-Bucs QB coach Mike Bajakian? Or, was Jameis well coached but too stuck in bad habits to eliminate them completely?
Those answers won't be coming for a while.
Obviously, Jameis has had plenty of strong games and does a lot of things very well. But winning from the quarterback position is about consistency, and Jameis has been horrible in that key area.
As for Arians calling out Jameis' bad mechanics publicly, Joe is certain that's a calculated plan to get in Jameis' head. It's also a convenient way for Arians to say Jameis was broken when Arians got here.
Man, if Koetter said that about Jameis' mechanics, a thousand Jameis apologists would have lined up to say Koetter threw Jameis under the bus. Those types also would explain why Koetter didn't have Jameis' back, therefore Jameis can't succeed.
Joe just hopes the bad mechanics Arians is seeing become simple fixes.