Mechanics Failing Jameis, Explains Ex-Buc QB
November 2nd, 2018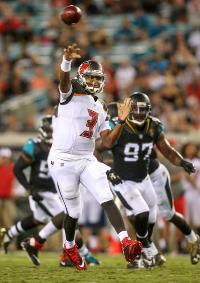 Bad feet. Wrong offense.
Those were two reviews of America's Quarterback, Jameis Winston, and his Bucs status, by a man who played the position.
Ex-Bucs and Patriots QB Jeff Carlson, a local resident who has been privately training quarterbacks for decades (a former JoeBucsFan columnist, too) hopped on The Rock Riley Show on 1040 AM this week to talk Bucs.
Yes, the subject of Jameis arose and Carlson had plenty to say.
Among many things, Carlson said the Bucs' offense doesn't suit Jameis but he believes an offense could be designed around the strengths of Jameis.
The arm of Jameis is much better than his feet, Carlson added, saying Jameis "still has awkward feet" and whoever has been coaching him privately "isn't doing him any favors."
That poor footwork and Jameis' associated comfort level, Carlson said, has improved since he was drafted but "doesn't compare with at least 20 other NFL quarterbacks."
One thing Carlson said made Joe applaud: Success for Jameis in preseason football is nearly meaningless. Carlson quipped that even he was a good preseason QB and Jameis primarily was playing against second-teamers during the 2018 preseason. (Joe still can't believe intelligent football men reference how well Jameis played this preseason. NFL history is filled with August legends.)
Carlson approves of the QB switch to Ryan Fizpatrick. He likes the better yards after catch (YAC) with Fitzpatrick, and said "it's never been good with Jameis." He also likes Fitzpatrick's more mature decision-making.
"What made Brad [Johnson] a Super Bowl quarterback was he knew what to do with the football when his first two receivers were covered. … Jameis still isn't good at that," Carlson said.
If Fitzpatrick struggles, Carlson said he'd like to see what Ryan Griffin can do in real games.