Report: "Adam Humphries Has Asked For $8 Million"
February 28th, 2019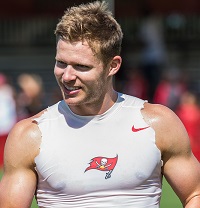 Some unsourced reports are more interesting or credible than others.
This one falls into that category. It comes from pay-per-view website TampaBay.com, the formerly free arm of the fading-fast local newspaper.
In a speculative piece about the Bucs' public show of interest in a Year 3 for malcontent DeSean Jackson, reporter Rick Stroud noted "Adam Humphries is a free agent and has asked for $8 million."
That's the first time Joe has seen a number on Humphries' demands. First, if this is accurate, it jibes with Joe's ongoing analysis that Humphries had no chance of ever earning $10 million per season in free agency. That's not what any team would pay a very reliable slot receiver with no clear ability to play outside or be a dangerous returner.
Of course, if Humphries is asking for $8 million per year, that means his agent probably thinks he can get $6 million to $7 million per season on the open market.
Joe would find a way to pay Humphries, who probably would accept two years of guaranteed money. That would mean the locked in part of his contract would expire when Chris Godwin would require a new contract (assuming he earns it).
What's most important, keeping Humphries, Jackson, Cameron Brate at $7 million per year, or scoring an established starting guard like Ramon Foster in free agency? That's the kind of question Bucco Bruce Arians and Jason Licht have likely pondered over the past month.