Old Dude Arians
February 28th, 2019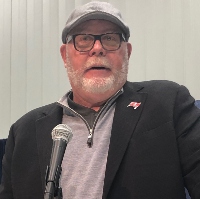 Every day you learn something. And so Joe did yesterday.
Browsing through a feature typed by Jarrett Bell of USA Today, Joe saw Bell noted that when the Bucs hired Bucco Bruce Arians, he was the oldest head coach to be hired in the NFL. So it is the old meets the young as Arians is tasked with saving the career of America's Quarterback, Pro Bowler Jameis Winston.
If anyone can bring out the best in Winston – or any quarterback, for that matter – it figures to Arians. The relationship between the two goes back to the time when Winston was the ninth-grader who attended one of Arians' football camps in Birmingham, Alabama, which the coach reflected on Wednesday. It was also telling to hear Arians refer to Winston by his nickname, "Jaboo."
Joe is still of the mind that unless Jameis has a horrific season, he will get tagged a year from now. Why tagged? That's because the current collective bargaining agreement expires after the 2020 season Who knows what the new CBA will look like?