Kwon Predicts 16 Or 17 Sacks For JPP In 2019
February 21st, 2019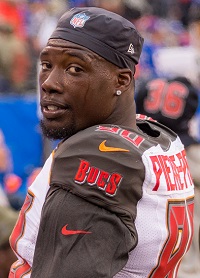 We've heard this year about the mad respect America's Quarterback, Jameis Winston, has for Jason Pierre-Paul.
"Every single one of us" needs the mentality of JPP, Jameis explained.
A guy who probably won't be with the Bucs in a few weeks, injured middle linebacker Kwon Alexander, seems to have the same attitude about the Bucs' 12 1/2-sack man.
Kwon was was on WDAE-AM 620 yesterday and responded to a question about watching JPP operate. Kwon felt compelled to say he thinks JPP will improve significantly.
"He's a great player, a hard worker. You know, he play his heart out. And he put everything into the game. He gonna go get it," Kwon said. "He gonna get that quarterback; he'll tell you that himself. He's going to be way better this year I feel like. I think he's going to reach like 16 or 17 sacks this year. That's how I feel."
Interesting that Kwon, who didn't sound like a man who knows he'll return to the Bucs, thinks we haven't see the best of JPP yet. Joe wonders if that take was a reflection of the defensive coaching mess of 2018.
Regardless, what's clear is that JPP likes wearing the Bucs uniform and isn't here to just cash a check. That's a small victory for Bucs fans.