Judgment Day For John Lynch
February 2nd, 2019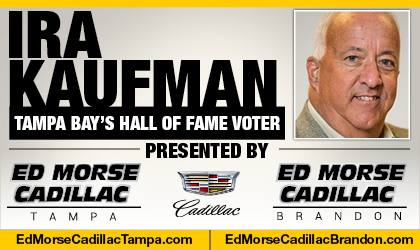 BY IRA KAUFMAN
The Pro Football Hall of Fame selectors shouldn't have it both ways.
They shouldn't cite John Lynch's lack of interceptions as a reason to keep him out of Canton when Ronde Barber can't even get in the room for discussion as a finalist.
Barber compiled some of the most unique statistics of any NFL cornerback, yet he hasn't made the leap from semifinalist to finalist in each of the past two years.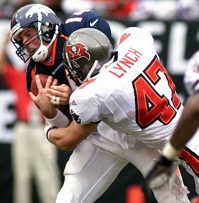 Barber's time is coming, but Lynch's time is now, or at least it should be. When 48 selectors sit down to vote late this afternoon, they are charged with a heavy responsibility. I've known that burden since 2005, when I replaced Tom McEwen as the Tampa Bay representative.
You can make a strong case for all 15 modern-day finalists every year, but a maximum of only five can make it to Canton in any given class.
Lynch is hoping the sixth time is the charm — and it should be. He has waited the longest and he enjoys broad support. He occupies a spot in two Rings of Honor and he occupied a spot in the mind of Barry Sanders, who doesn't talk up many opponents. But when it comes to John Lynch, Sanders can't say enough about the grit and intimidation No. 47 brought to the dominant defense of its time.
And if the 1985 Bears can have three defensive players (Richard Dent, Dan Hampton, Mike Singletary) sporting gold jackets, why short-change the Bucs, who sustained their defensive run much longer than Buddy Ryan's wrecking crew?
Tony Dungy says Lynch had more responsibility in the Tampa 2 than any Buc player. He ran that group from the back end and when he arrived in Denver in 2004, Lynch reinvented himself.
Different scheme, different teammates, different Lynch.
All of a sudden, he was turned loose as a blitzer and Lynch responded with four sacks in 2005, tying for the team lead on a 13-3 club. He also registered four forced fumbles, becoming the first safety since Rod Woodson in 2002 to post those numbers in the same season.
And when it comes to leadership, Lynch has few peers. He gained the trust and respect of his teammates the hard way … he earned it.
Face Of The Shield?
When he wasn't stopping Jerome Bettis cold, he was laying out Tony Gonzalez over the middle. The intimidation factor was real, even if it's difficult to quantify.
Lynch will know his fate by the end of business Saturday. If he receives a phone call, it means he fell short. But if Hall of Fame president David Baker knocks at Lynch's hotel door, he'll know he is joining Derrick Brooks and Warren Sapp in the immortal Tampa 3.
Even if the news isn't what he wants to hear, Lynch will likely be back in the room next year in Miami, vying for the Class of 2020. That will be Troy Polamalu's first year of eligibility, the same Troy Polamalu who gave Lynch his Super Bowl helmet because he learned how to be an impact safety by watching Lynch play.
I asked Bruce Arians what it was like to prepare an offensive game plan, knowing Lynch was going to be on the other side of the ball. Arians said Lynch's smarts and toughness made him stand out from his peers.
You also had to deal with John Lynch, the man.
"If you were to put a face on the NFL shield, it would be John Lynch's face," Arians says. "He's a perfect representative of what this league stands for."
Ira Kaufman began covering the NFL as a New York Giants beat writer in 1979. He arrived on the Buccaneers beat in 1985. The corporate leash was removed from his neck when he joined JoeBucsFan.com in July 2016. The award-winning Ira Kaufman Podcast fires twice per week, and Ira's columns appear thrice weekly, except when Ira is on special assignment. Tampa Bay's only Hall of Fame voter also is a popular guest on various national radio and on local TV.