Isaiah Crowell & The Bucs
February 14th, 2019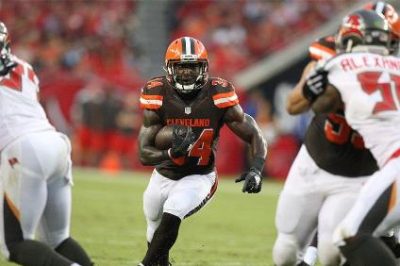 Last March at the NFL Owners Meetings, former Bucs head coach Dirk Koetter talked about how the Buccaneers were chasing at least one free agent running back but the bidding got high.
The implication from Koetter was that it got too high.
Maybe the target was Jerick McKinnon or Carlos Hyde, or maybe it was former Browns RB Isaiah Crowell, who the Jets gave $4 million per year.
Regardless, Jets beat writer Manish Mehta of the New York Daily News reported yesterday that the Jets and their new coaching staff expect to part ways with Crowell after one season. It's all part of their rebuild, and what could be a clearing of room for Le'Veon Bell.
Crowell, 26, is an interesting and solid running back, averaging 4.3 yards per carry through his five-year career, including 4.8 yards per carry last season for the Jets, whose head coach was new Bucs defensive coordinator Todd Bowles. Crowell has missed just three games in his five seasons, and he has just six fumbles through 880 career carries.
Undrafted in 2014, when the Bucs grabbed Charles Sims in Round 3, Crowell shined on very bad Browns teams and did what he could with the Jets. Imagine what he could do on what Bucs GM Jason Licht calls one of the greatest offenses in NFL history?
No, Crowell isn't a great back, but he's probably better than Peyton Barber, and the thought of the Bucs gambling on depth/quality in the draft again is enough to send Joe a therapist.