DeSean Jackson & The Steelers
February 12th, 2019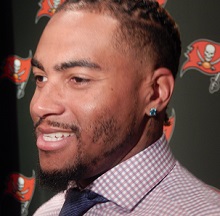 As new head coach Bucco Bruce Arians said in January, A-holes usually run in the wide receiver room.
It was one of the great early quotes of 2019.
At the time, Arians was talking to a Phoenix radio station about Steelers malcontent future Hall of Fame wide receiver Antonio Brown.
Today, Brown's demand for a trade was made public and reports show the Steelers would spare themselves cash and salary cap damage if they get a deal done before March 17.
And that brings Joe to the Bucs' own grumpy but far less productive diva receiver, DeSean Jackson. Fans with good sense know Jackson has no business on the 2019 Tampa Bay roster, unless the Bucs want to see him be successful only to bolt in free agency or hold them hostage for a giant new contract in 2020.
The best case scenario is for the Bucs to be able to trade Jackson and his $10 million contract for 2019. Even a seventh-round pick would be nice and today Joe is thinking the Steelers might just be a perfect fit for Jackson.
With Pittsburgh, Jackson wouldn't be able to complain about the quarterback. And he's known in Pennsylvania and maybe the Steelers could restructure his contract. Plus, Jackson always talks about leaving a legacy and wanting a championship. So he should be giddy to play with a contender.
Forgive Joe, any angle to get Jackson on a new team gets Joe excited.