Bruce Arians: A-Holes Usually Run In The Wide Receiver Room
January 22nd, 2019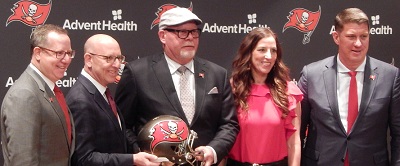 Don't count on Bucco Bruce Arians wearing a leash while on his new job leading the Tampa Bay franchise.
Outspoken, smooth-talkin' but raw Arians will not be holding back.
That was the message he delivered recently during an interview with FOX Sports 910 in Phoenix. Arians was in town for an auction benefiting his foundation that assists foster children.
"I'm just going to be me. I can't stop that. The one thing that I think the Buccaneers like so much is that I am me, and they like that," Arians said when asked whether he was going to cut his smack talk now that he's back in the NFL.
Recently, Arians made a diva comment directed at disgruntled Steelers receiver Antonio Brown, and Brown responded on social media. Arians was asked about that and didn't back down, saying, "I mean, like I said, he's one of the hardest working guys I've ever had. He just needs to go back to where the beginning was."
Arians coached Brown when he was a rookie, a Steelers sixth-round pick in 2010.
Later in the interview, during a discussion about wealth changing some people, the host noted Arians and his wife aren't "a-holes," despite the adulation of fans and fat paychecks.
"Not all are," Arians said. "It's just a few. They usually run in the wide receiver room."