Jameis Winston: "I'm A Great Human Being"
February 16th, 2019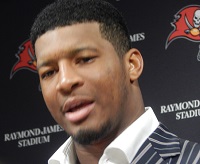 America's Quarterback has a very high opinion of himself, so he told a national audience recently.
It's rare to hear a man anywhere say, "I'm a great human being." But that's what Jameis Winston told Adam Schein on SiriusXM Mad Dog Radio airwaves.
Here's the verbatim exchange that takes you into the mind of Jameis:
Adam Schein: Whats the biggest misconception about Jameis Winston?

Jameis Winston: The biggest misconception about me is that I'm not a good person. You know, but I do my best every single day on and off the field to make sure that I'm being the best me — no matter what. I know that I'm adamant in the community. I'm a great human being. And I love life, and I'm always going to love life. I'm going to be myself.
Man, Jameis is a supremely interesting guy. What a psychological study he would be.
Jameis is not alone in his assessment of his human greatness. Bucs right tackle Demar Dotson said shortly after the regular season that Jameis is not the guy he heard about when he starred for Florida State University, and certainly not the man you'd expect to find in a "groping situation." Those are Dotson's words.
"You're not going to get another quarterback in here that's going to be hungry and compete like Jameis doin'," Dotson said. "You know, he takes a beating because he's the quarterback. You know, those are guys that's going to always get the praises first and always going to get the frowns. So you know, a  guy like Jameis, man, he competin'.

"A lot of guys outside this building don't see the work that he put in. He's the first one in the building, usually last one to leave. He's competing hard in practice. Doing everything he can to be a good football player. And not only that, he's a good person. He treat everybody in the building with respect. And all the things that you heard about the guy coming out of college, you just don't see it. Even the incident that he got in with the groping situation I mean that's not who he is. He's a tremendous person and a tremendous football player."
It's nice to hear that Jameis is a "great human being." Fans have been hearing that for years. Now it's time for great football.