Calculating Value
February 15th, 2019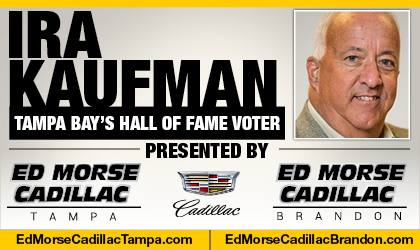 BY IRA KAUFMAN
Given Tampa Bay's looming salary-cap crunch, Buc fans are looking for ways to cut corners and free up some cash heading into free agency.
On the surface, Cameron Brate appears to be vulnerable, coming off hip surgery and a marked decline in production. Brate is slated to earn $7 million in base salary this fall, leaving more than a few Buc supporters to wonder whether this No. 2 tight end is worth his keep.
Fair question.
But in evaluating Brate's value, let's not be too quick to dismiss his contributions. He's never going to match O.J. Howard's average of 16.6 yards per reception, which topped all NFL tight ends in 2018, but Cameron Brate is smart, durable and dependable.
Am I wrong to suggest this franchise doesn't have enough of those guys?
Howard has missed 25 percent of Tampa Bay's games during his first two seasons, so he has to prove he can stay healthy for the grind. Brate has missed only three games in the past four years and he showed his toughness last year by playing through a torn labrum (hip) that required surgery last month.
Brate's production plunged without question as he caught 30 passes for only 289 yards. It's hardly a stretch to suggest he was hampered by the injury and the quarterback shuffle between Ryan Fitzpatrick and Jameis Winston.
Ask Winston why he locks in on Brate in the red zone and the answer is elementary: because he's open.
Impact Player
The Bucs scored touchdowns on 60 percent of their trips to the red zone last season, ranking in the middle of the NFL pack, but Brate continues to make a powerful impact inside the opponent's 20-yard line.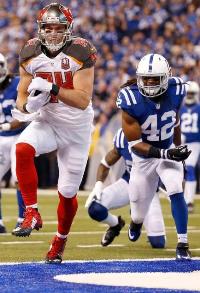 In the last three years, Brate's 19 TD receptions in the red zone are tops among all NFL tight ends. That includes you, Mr. Kelce, and you, Mr. Gronkowski.
That's a skill set worth keeping. So here comes Bruce Arians, looking for keepers. It's Jason Licht's job to keep the Bucs on sound salary-cap footing. While Licht and director of football administration Mike Greenberg worry about cap space going forward, Arians is focused on stockpiling guys he can rely on.
And the man seems to love tight ends. In 2013, the first year Arians rode into the desert, Arizona tight ends Rob Housler and Jim Dray combined for 25 starts. The 2015 Cardinals, who reached the NFC championship game, featured 12 starts apiece for tight ends Jermaine Gresham and Darren Fells.
Even in the final game Arians coached before retiring, he started Gresham and Troy Niklas in a 2-TE alignment against Seattle. Arians obviously sees the value of utilizing two tight ends, and he's got two good ones at One Buc Place. Besides, if Antonio Brown is worth only a second-day draft pick, what do you think Brate would command in a trade?
If this season is all about helping Winston reach the next level, Brate should be part of the scene. He and Winston clicked right from the start and Brate knows how to find those tiny creases in the end zone.
Those are valuable traits as Arians begins the process of identifying his bad-ass warriors. Brate also has support from the executive suite as Licht is justifiably proud of finding a Harvard man who can play.
Right here, right now, Brate's a keeper.
Ira Kaufman began covering the NFL as a New York Giants beat writer in 1979. He arrived on the Buccaneers beat in 1985. The corporate leash was removed from his neck when he joined JoeBucsFan.com in July 2016. The award-winning Ira Kaufman Podcast fires twice per week, and Ira's columns appear thrice weekly, except when Ira is on special assignment. Tampa Bay's only Hall of Fame voter also is a popular guest on various national radio and on local TV.