Bruce Arians: "There's No Separation Between Coaches And Players"
February 20th, 2019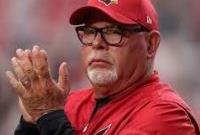 Bucs lovers know well that a losing mentality has plagued their favorite team for far too long.
The current dream is that new head coach Bucco Bruce Arians simply will not tolerate that any longer. Why? Because it clashes with every fiber of his being.
Remember what Arians told Joe about habitual loafers. It was an instant freakin' classic.
Recently on The Pat McAfee Show, Arians offered a peek into his winning mentality. The show is named for the former Colts Pro Bowl punter who played for Arians during his heroic season in Indianapolis while taking over for cancer-stricken head coach Chuck Pagano.
"You are the only coach that I ever played for that I truly felt wanted to win just as bad as the players. You were competitive, everything about you," McAfee told Arians.
Arians had a quick and matter-of-fact reply. "There's no separation between coaches and players," Arians replied. "It's all one, one team one cause."
Other ex-Arians players have said it feels like Arians is right there in the grind and the fight with players, and his assistant coaches feed off that leadership.
At the Pro Bowl last month, Cardinals cornerback Patrick Peterson told Joe that Arians relies heavily on his locker room leaders to deliver a win-at-all-costs attitude, which was a key during their successful run in Arizona.
Man, Joe sure hopes the Bucs have the players to deliver that for Arians in Tampa, especially if the head coach deems it necessary. It's been years since the Bucs played like they've had healthy population of those kinds of players.