Bruce Arians Sends A Letter To Season Ticket Holders
February 10th, 2019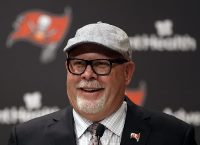 Your Buccaneers officially signed off on huge expectations for the 2019 season.
Not every NFL team takes that approach, and one Hall of Fame general manager thinks it may not be a wise move.
As a Tampa Bay season ticket holder, Joe gets all related correspondence associated with that status. In Joe's mailbox yesterday arrived a letter from Bucco Bruce Arians.
Arians writes, "I want to win right now, and this team certainly has the talent to do that. We will be aggressive in every facet of the game and will have an attack-first mentality on both sides of the ball. No risk it, no biscuit!"
There's plenty more and Arians says his coaching staff has "some of the brightest minds in the sport who will do everything in their power to get the most out of our players."
It was nothing Arians hadn't already said, but putting it on paper and sending it to arguably the team's most dedicated supporters is another level.
The Bucs are managing expectations — big ones. They're basically telling fans to save their money for playoff tickets or feel free to be disappointed.
The Buffalo News recently wrote a story about how the Bills have been sending fans be-patient-and-grow-with-us messages, and retired Hall of Fame GM Bill Polian likes the approach and the openness.
"The strategy is to make sure that the fans understand what the philosophical approach is and, as closely as you can, what the specific approach is toward rebuilding the team," Polian said by phone. "The fans deserve that. It's both good business and smart public relations. And it gives them a framework with which to view free agency. After all, it's Sean and Brandon that are going to set the tone, not some commentator on the outside.

"By outlining what their thoughts and parameters are, they set the tone and direction in fans' minds for the offseason. Now, if you don't achieve everything that you enumerated, then obviously people have the report card. And people in (the media) are going to say, 'Well, they didn't do this, and didn't do that, they didn't do the other thing.' But that always happens anyway. To involve the fans and make them aware of what the plan is going forward, I think, is tremendous."
The Bucs, apparently, also are sharing their internal approach to fans who have endured back-to-back losing seasons under the same team architect: Win now by making every aggressive move possible.