Bruce Arians Says He Wants To "Build Around" Peyton Barber
February 27th, 2019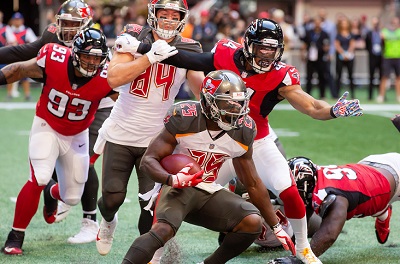 Joe wrote earlier that the Bucs expect a big jump from Ronald Jones this season. (Insert your sarcastic one-liner here.)
But Bucco Bruce Arians offered a lot of clarity about the running back position later in the day.
Arians has watched the film and it's clear he sees Peyton Barber as a No. 1 running back.
Scary? Perhaps — but not for the head coach.
"I love him, for a man that size. You know, when you watched the tape, you don't see him as 230 [pounds]. You think he's a 205-pound running back because he's got great feet," Arians said of Barber. "Not every back's going to be a home run hitter. He gets those 10, 15-yard runs breaking tackles, power runner, punishing runner. When we're building something, that's the kind I want to build around."
Later, Arians was asked to name Buccaneers who surprised him in a positive way while self-scouting the team  — as in he didn't realize how good they are. Arians named Mike Evans, Lavonte David and Peyton Barber.
"And I can honestly say Peyton Barber. I mean, I've watched this guy no and i'm like, whooff. He's so subtle in some of the things he does for a big man." Arians added.
Man, as of now, it's starting to smell like the Bucs might not touch the running back position in the draft until the fourth round.