Another Crack At Kenny Vaccaro
February 11th, 2019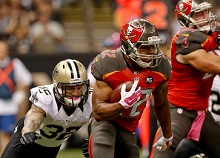 Joe clamored for the Bucs to sign free agent safety Kenny Vaccaro last year.
Instead, the Bucs opted to head to training camp with Keith Tandy over the 2013 first-round pick who played well in Tennessee for peanuts.
Vaccaro, who turns 28 this week, went to the Titans on a prove-it contract ($1.5 million) and by all accounts had a good year as a starter, even if his stat sheet was underwhelming. Remember, last year was that strange offseason for free agent safeties, with teams seemingly colluding in order to avoid paying them. Vaccaro was signed in early August.
He's a good blitzer and a physical presence. Injuries have been an issue, though. Vaccaro has missed seven games over the past two seasons; a dislocated elbow cost him three games last year.
But the talent is there and Joe's going to dare to say Vaccaro is an upgrade to fan favorite Chris Conte, and a good piece for Todd Bowles' blitz-happy, aggressive defense.
Plus, if you're Vaccaro and you're looking for a starting gig, doesn't Tampa look like a ripe place to win a job?
Reports out of Tennessee say Vaccaro wants to return, though it's unclear what kind of cash he'd be seeking and whether the Titans want to write a big check.