3 Bucs Targets For Eagles
February 12th, 2019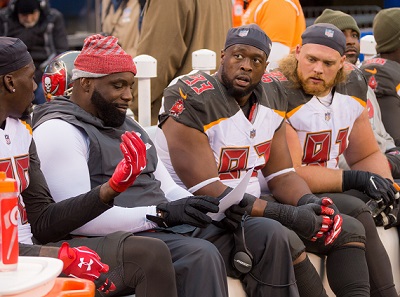 Last year, Jason Licht and other Bucs honchos tried to sell fans a line of false hope and borderline nonsense.
It all centered on the fictional and fraudulent notion that signing Super Bowl winners in free agency would somehow rub off on the roster and lead to a championship-caliber locker room.
It didn't work.
Beau Allen, Vinny Curry, Jason Pierre-Paul and their Super Bowl rings joined the Tampa Bay defensive line and now two of them are highly expendable when it comes to the Bucs roster.
Eagles beat writer Eliot Shorr-Parks of WIP radio thinks the ex-Eagles, Allen and Curry, are primed to be cut by the Bucs soon and he thinks they'd be perfect fits to return to Philadelphia. He seems certain Allen represents a chance to right a wrong.
Beau Allen, Tampa Bay: The Eagles made a mistake letting Beau Allen go last offseason, and they might get a chance to fix that mistake this offseason. The Buccaneers can save $5 million by releasing Allen, who played in just 36% of the snaps last season. Allen would be a perfect addition to the Eagles, as he knows the defense and could fill in the role he played perfectly in 2017 — the top rotating defensive tackle off the bench.
Perhaps more interesting, Shorr-Parks (one of Joe's favorite beat guys) sees Gerald McCoy as a fix for the Eagles.
Gerald McCoy, Tampa Bay: The Buccaneers are expected to switch to some version of a 3-4 defense under new defensive coordinator Todd Bowles, meaning some of their 4-3 personnel will no longer fit. There has been plenty of speculation that McCoy could be a cap casualty in Tampa Bay because of the switch. McCoy had a down season in 2018, as he had over half as many tackles for a loss (6) as he did in 2017 (13). The Buccaneers can save $13 million by releasing McCoy, and if they do, the Eagles could bring him in to replace Timmy Jernigan. Bringing in an established defensive tackle like McCoy would also take off a considerable amount of pressure from whichever young defensive tackle the Eagles draft early on.
Man, McCoy landing with the Eagles would be so Bucs. Why? Because Michael Bennett is there and coming off a strong season.
As Joe wrote yesterday, this sure smells like the year the Bucs would be wise to blow up their expensive defensive line and get younger and a lot hungrier.