3-4 Experience, Excitement For Carl Nassib
February 24th, 2019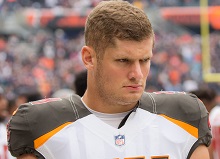 A big favorite among members of the Jason Licht administration, and among those who hate loafing on the football field, is Bucs DE Carl Nassib.
He produced. He played hard. He seemed to learn in a hurry. What more could one want in a 6-7, 275-pound defensive end who just turned 26 years old?
Nassib fielded questions from Alex Marvez and Zig Fracassi on SiriusXM NFL Radio yesterday and he talked a bit about his versatility. Yeah, he thrived as a pure 4-3 left defensive end, but Nassib said he can do it all and would benefit from his experience in a 3-4 defense as a rookie with the Browns — if the Bucs and new defensive coordinator Todd Bowles move in that direction.
"I'm excited for Todd Bowles to teach me new things I haven't had the experience of doing. I think we're going to come out attack, attack, attack, and it's going to be great," Nassib said.
It's worth noting that Nassib referenced the "attack" philosophy. He did say he spoke briefly to Arians and Bowles after they were hired, and he said his time in Tampa has been a perfect fit.
As for Nassib's role, as Joe explained last week, look for the Tampa Bay brass to fully embrace Nassib and what he could mean for the organization.