Warrick Dunn Talks Jameis "Wake-up Call"
January 25th, 2019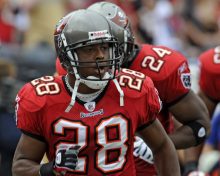 You see that JoeBucsFan logo atop this page, that No. 28 on the jersey is for Warrick Dunn, a special Buccaneer and a great man.
Dunn always has been about walking the walk, not talking the talk.
And in a private chat with Joe, Dunn applied that principle to America's Quarterback, Jameis Winston.
Dunn, 44, a part owner of the Atlanta Falcons and a man providing houses to disadvantaged families for 20 years, keeps an eye on the Buccaneers and he certainly watches them play his team twice per year.
After the Bucs-Falcons season finale a few weeks ago, Joe asked Dunn what he saw from Jameis. (Monday Morning Joe podcast listeners heard the audio here.)
"I saw a better quarterback. I think he was more focused, better anticipation; I just think he was on it. At times, you know definitely this game here, he looked like a guy who the Bucs have been waiting to see," Dunn said of Jameis. "And, you know, you just want him to be consistent. And I think that's the main thing. If he can play at the level he played today and be consistent, and have good anticipation and have control of the huddle and not really the rah-rah guy, just be a guy who's going to lead his team. They got enough guys who can be the rah-rah guy."
Joe asked Dunn if "rah-rah guys" every impacted or impressed him.
"No, it's all about action," Dunn said. "Action speaks louder than words. I was all about what are you going to do, what are you actions going to show, not necessarily things you're going to say. And I think now his approach is probably, 'I'm going to go out and prove that I can play and not necessarily be the hype guy in the locker room.' It's called growth. Right?

"Sometimes you have to fall down to get back up to really understand what you need to do and how you need to move forward. And I think, hopefully, this is a wake-up call, that these are things that he needs to do to move forward and be the best player he can be."
Powerful stuff there because it's from Dunn.
The table is certainly set for Jameis: from coaching to weapons to experience to powerful life lessons and good health. He's got it all.