Dungy Predicts Bucs Will Run A 4-3 Defense
January 25th, 2019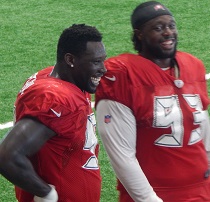 Gerald McCoy might enjoy this.
NBC Sports NFL analyst and Buccaneers Ring of Honor member Father Dungy was talking plenty about the Buccaneers this week during his sitdown with JoeBucsFan.com columnist Ira Kaufman, the Sage of Tampa Bay sports. There was lots of good stuff, including how Dungy and Arians were roommates in Kansas City years ago while their wives lived elsewhere.
But one notable football nugget from the Father Dungy chat was Dungy sharing that he believes the Bucs will run a 4-3 base defense next season based on their personnel. And if there's one thing Dungy knows extremely well, outside of picking and developing assistant coaches, it's defensive personnel. He also has a good handle on the free agent market.
As you read this, defensive coordinator Todd Bowles and friends are poring over game film of the Bucs. They're seeing the good, like Carl Nassib's hunger and athleticism, and they're seeing the bad, like M.J. Stewart appearing two steps slower than whoever he's covering.
We know Bowles will make the call on how the Bucs proceed when it comes to establishing core needs on defense, and Bucco Bruce Arians and Jason Licht will respond accordingly.
Joe really can't make an educated guess at this point on the 3-4/4-3 debate. So much will come down to how Bowles evaluates the Buccaneers' defensive line.
For example, if he thinks Gerald McCoy is too good to toss overboard and he thinks JPP would lose effectiveness in a 3-4, then it could be 4-3 all the way for Tampa Bay in 2019.