Four Ex-Bucs & A Costly Draft Miss On Display In The AFC-NFC Championship Games
January 20th, 2019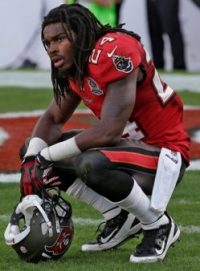 And people wonder why Joe has chronic indigestion, sleep disorders and 24 broken TV remote control devices in 11 years.
Meaningful January football continues today with the AFC and NFC Championship games. Bucs fans, as they've done for more than a generation, will watch and try to remember what it's like to see their team in those games.
Four former Buccaneers will play today: 2007 first-round pick Aqib Talib, 2011 first-round pick DE Adrian Clayborn (Patriots), 2012 first-round pick Mark Barron (Rams) and former Tampa Bay special teams captain Josh Robinson (Saints).
When Joe thinks of Clayborn, Joe thinks of the defensive end selected just four picks after him, the guy with the Hall-of-Fame-track career, Cameron Jordan.
Jordan has never missed a game and he recorded his fourth double-digit sacks season this year — and his fourth Pro Bowl appearance. After a strong rookie season, Clayborn dealt with many injuries and has become an NFL journeyman.
In 2014, Barron was traded to the Rams for a fourth- and sixth-round picks because Lovie Smith didn't like him. He was transformed into a linebacker by former Rams coach Jeff Fisher and has had a successful and lucrative run there. This has been Barron's least productive season with Los Angeles/St. Louis, after missing the first four games with an ankle injury.
Aqib Talib, well, the Bucs unloaded him on the Patriots at the 2012 trade deadline and Talib's career took off. It was hard to blame the Bucs after all of Talib's shenanigans, but bad organizations like the Bucs typically can't handle challenging players. Talib will be a Hall of Fame semifinalist one day.
Robinson has played in 11 games this season, plus last week's playoff game, in the same role he had with the Bucs: special teams ace/rarely used defensive back.
At the least Bucs fans don't have to watch former Tampa Bay quarterbacks in conference championship games any longer. At one point, there were four in 14 years: Doug Williams, Steve Young, Vinny Testaverde and Trent Dilfer.