The Next Act In The Kicking Circus
January 17th, 2019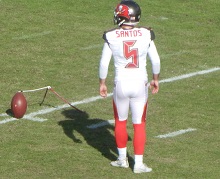 Among the many soap opera-like tragedies that have befallen the Bucs since they clinched their last playoff berth in 2007, the kicking circus is among the most astounding.
And a new episode is revving up.
You know how Joe knew in advance Bucco Bruce Arians would be named the new Tampa Bay head coach? Because Arians launched kicker Chandler Catanzaro after the 2016 season in Arizona. Then Catanzaro went to the Jets and was launched after a shaky 2017. And then he landed with the Bucs after the 2016 Jets kicker, Nick Folk, failed in Tampa. #sarcasm
You can't make this stuff up.
Now Arians is here with new kicking coach Chris Boniol and kicker Cairo Santos about to hit free agency coming off a questionable seven-game tenure last season. Santos was 3-for-6 on field goal attempts of 40+ yards.
Joe certainly hopes the Bucs can find a kicker in the seventh-round of the draft this year, or even a undrafted guy. Heck, Sebastian Janikowski is a free agent coming off another solid season and a solid playoff game.
Joe's only request is to not allow whoever has been scouting kickers in the past be part of the process. Give the guys $100 gift cards to Hooters and tell them to get lost for a while.
The kicking circus came up at JoeBucsFan.com world headquarters today after the Steelers owner Art Rooney II spoke out about his team's failure to produce an average kicking game. Joe wonders if Team Glazer will hug the guy at the next owners meeting and invite him to a group therapy session.