The Malcolm Glazer Influence Behind The Bruce Arians Hire
January 15th, 2019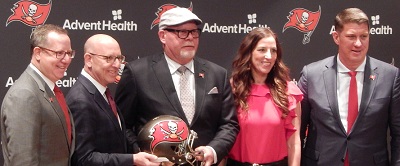 More powerful video from the Buccaneers, sort of a follow-up to the in-house Hard Knocks style series produced this summer.
This time, it's a glimpse into the hiring of new head coach Bucco Bruce Arians.
One of Joe's takeaways from the video is that it's very obvious that Arians was the No. 1 candidate before Dirk Koetter was fired. The footage offers another look at Arians saying at his introductory news conference, "when I heard that this job was going to be open."
Also, Buccaneers co-chairman Bryan Glazer is heard quoting the late Malcolm Glazer, who bought the Buccaneers in 1995. Joe took Bryan Glazer's comments to mean experience was a critical component to the coaching search that started and ended with a two-time NFL Coach of the Year."
"I think as a family you have each other's back. My father always said, "If you want to know the road ahead, ask the man that's been there. And that's exactly the case with hiring Bruce Arians," Glazer said.
Enjoy the video below.
Dear Bucs, you should be doing a lot more video like this if you want to connect with fans and build a passionate fan base. Someone at One Buc Palace should seriously be considering allocating — or reallocating — resources to make it happen.