Bruce Arians Says He Got A "C" On His Physical
January 15th, 2019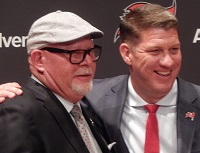 How healthy is new head coach Bucco Bruce Arians?
It's a question that's been considered by many Bucs fans. Yes, Arians passed an intensive physical in Tampa. But how did he score? He talked about that today on 98.7 FM in Phoenix.
"Man, they gave me this unbelievable physical," Arians said today. "They said I got a C. That's like the best news I've had in like 10 years: I got a C on the physical. Yeah, I mean, Cs were always great for me … you know what I mean?

"When you've been an F health-wise for 10 years, a C is great."
Hey, a "C" score for a refreshed 66-year-old guy who had been working part-time sounds like he's a typical guy for that age, but it also sounds like he's not 66 going on 58. Hopefully, Arians will stay on top of his health in Tampa. He has said he's very serious about losing 30 pounds.
Arians still throws back the cocktails and is happy to talk about it. But there's no crime in that.
Joe wonders whether part of Arians' deal is an annual physical to monitor him closely.
During the interview, Arians also added that NFL broadcasting etiquette drove him a little nuts because he couldn't speak freely. "I got in trouble for saying a guy is "wide-ass open," Arians said of his first game behind the mic.