The Byron Leftwich Reaction
January 12th, 2019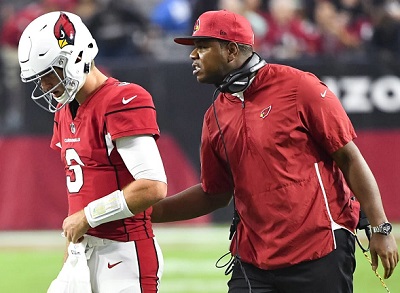 Updated: 4:06 p.m. – There are a few too many Bucs fans who had the same reaction when they heard Tampa Bay's new young up-and-coming playcaller would be former Buccaneer and retired NFL journeyman QB Byron Leftwich.
Last year, Leftwich took over Cardinals playcalling midway through this season for fired OC Mike McCoy. Leftwich, who turns 39 on Monday, was a favorite of Bruce Arians when he was the head man there.
Is Leftwich any good? Joe has no clue.
He was out of football for a while before becoming an NFL intern in 2016. And now he's the Tampa Bay offensive coordinator.
But Joe is baffled by the wails of Bucs who think Leftwich will be bad just because he was not much of a player. Also, there's fear that his notorious big-windup delivery will somehow transfer to America's Quarterback, Jameis Winston.
There are so many great coaches who never played in the NFL or were subpar players. Leftwich's playing record really has no bearing on his coaching talent.
Consider what Arians himself told 98.7 FM in Phoenix about Leftwich in late October.
"(Leftwich) did such a good job when I let him call plays in practice and in those couple preseason games …" Arians said. "He was outstanding. He was always a play ahead. You could tell he was a quarterback and a really, really smart one. He had such a great rapport in that room. I know (former Cardinals quarterback) Carson Palmer leaned on him heavily."
Arians also said he leaned on new Leftwich a lot in 2016 and 2017, and said Leftwich had a strong hand in game-planning and has loads of ideas. "A very teachable game plan," is what Arians predicted Leftwich would offer.
Last season, again, Leftwich took over in midseason with a rookie QB, a shabby offensive line, a Pro Bowl running back on injured reserve and a nothing-special receiving corps. Joe can't judge much there.
Leftwich will arrive in Tampa with his playcalling mentor Arians. Worst case, Arians takes over the duties. Give Leftwich a chance.
---
DERRICK BROOKS & IRA KAUFMAN talk about the BRUCE ARIANS hire on TAMPA TWO, presented by Caldeco Air Conditioning & Heating.