Cutting Edge Bruce Arians
January 12th, 2019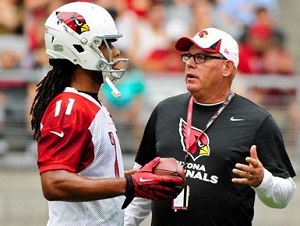 Joe has long known about Bruce Arians' keen interest in how technology can help his players and coaches.
That's why Joe asked him about it Thursday.
Years ago, Joe heard Arians share stories of how he was super eager to embrace the early stages of modern video before it was mainstream, and then later virtual-reality training, something he used to tout for all players, not just quarterbacks.
Then in Arizona, he started charting and studying how much his players were running in practices and when injuries occurred.
"Yeah, I'm more into sports science now, " Arians told Joe. "What we're doing with sports science is amazing. Guys playing to 35 or 40 years old at a high level still. The technology, you don't have to be in the office past 10 [p.m.] unless you don't want to go home.

"You know, because what used to take six or seven hours breaking video down, film, just punch a button and there it it is. There's the red zone, how long to you have to stay in the office to do that? So to me, I'm really fascinated with the stuff we're doing on the field judging heart rates, heat, everything else that's going into the player on the practice field so we're not overworkin'em or not working them enough. We had great success in Arizona with that."
Of course, being into technology, advanced training, etc., doesn't make you a better head coach. But it does speak to the mindset and approach of the guy in charge, and it typically garners the respect of players.
Chip Kelly entered the league with the Eagles with back-to-back 10-6 seasons and very different ideas on training. They worked. It was a lust for power and stupid moves that most doomed Kelly.
Joe's very eager to see how Arians handles training in the climate that is Tampa, which is very different from the hair-dryer heat of Arizona.
It's a more challenging balancing act now that the Bucs have their sparkling new indoor training facility.