The Bucs And Mark Ingram
January 19th, 2019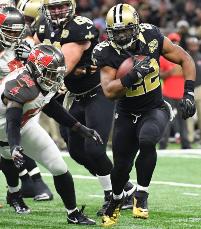 Everything about the Bruce Arians regime screams "win immediately" and "get the most out of Jameis Winston in a hurry."
That will require a running back.
Joe loves Peyton Barber. What's not to like? He's an undrafted guy who developed into a solid back. He fights for every blade of grass — unlike most of his offensive linemen — and last season proved he could battle through injuries, pass block and average 3.7 yards per carry with a large workload.
At 24 years old, his future is bright. But Barber is a 1A back/a bottom tier starter at best.
So the Bucs, for yet another offseason, are hunting for a running back to push their offense over the top. Sorry, Mr. Licht.
The fastest way to upgrade at running back is to buy one because the draft is always a mystery — and it's after free agency. This year's free agency class at RB is diverse and talented, and Joe will explore many of them in the coming days.
Saints two-time Pro Bowl running back Mark Ingram is among them and, at the risk of going all Dirk Koetter, Ingram is considered an elite pass blocker. He turned 29 a few weeks ago and has averaged 4.7 yards per carry since starting the season with a four-game extension.
Ingram is a true three-down back and hasn't missed a game because of injury since 2015.
He won't be cheap, but he won't break the bank. He won't be a crazy explosive home run hitter or a long term fix, but he would get the attention of offensive coordinators and complement Ronald Jones and/or whatever young speedster the Bucs acquire through the draft.
Something must be done at running back in free agency. There will be many options. Joe just hopes the guys scouting running backs previously are largely or completely removed from the process.