The Arians-Glazer Postseason Summit
January 16th, 2019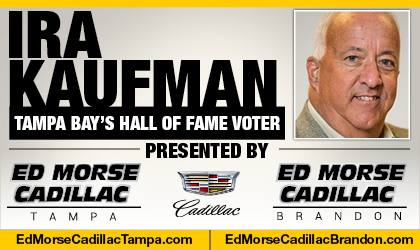 BY IRA KAUFMAN
In less than a year, Bruce Arians and the Glazers will go behind closed doors for an open dialogue.
The subject of the meeting will be one Jameis L. Winston, who won't be in the room but never strays far from the thoughts of ownership.
After Winston's fifth NFL season is complete, the Glazers figure to have a pretty good idea whether he is Tampa Bay's franchise quarterback or a potential franchise wrecker.
"Pretty good idea" isn't good enough. They need to KNOW.
The fact we aren't sure right now tells you a lot about how uneven Winston's pro career has been since the Bucs kicked off the 2015 draft by selecting him over Marcus Mariota.
To be fair, neither quarterback has established himself as an elite player. Mariota lacks durability and star power while Winston has made too many mistakes and hasn't won nearly enough. Both remain works in progress, each expected to play for $20.9 million in 2019 as the Bucs and Titans exercise their fifth-year options.
"I think Marcus has done a good job for us," says Titans GM Jon Robinson, a Jason Licht disciple who was hired by Tennessee three years ago. "He's made some big plays for us in my time here and he's a tough guy. He's been dinged up, but when he's been out there he's done a lot of good things for us. I'm glad he's on this football team. He needs to take some time and get some rest and get healthy."
If the Bucs are 10-6 next season with Winston under center, Arians and the Glazers won't waste much time discussing the quarterback position going forward. At that point, a long-term contract extension for No. 3 should be a formality, with only the details to be worked out with Winston's representatives.
If the Bucs are 6-10 under Winston, he's probably gone — or at least he should be. With the quarterback whisperer in town, Winston's game should shout out "I'm the man."
Gray Area
What about the great middle? That's where it gets tricky, and that's where Arians needs to be brutally candid. Suppose the Bucs go 7-9 or 8-8?
That's not exactly a ringing endorsement for Winston, especially because Arians believes this is a more talented team than the 5-11 Arizona club he inherited in 2013.
At the end of the day and at the end of the season, Arians needs to tell the Glazers what they need to know … not what they want to hear.
If Winston's not the guy, Arians and his 33-man coaching staff needs to pull the plug. It's still an open question, and that's why the Bucs should use a middle-round draft pick on a quarterback Arians thinks he can develop.
Winston is understandably thrilled that Arians is the choice to replace Dirk Koetter.
Arians couldn't be more effusive in his praise for Winston — and that should restore some of the confidence lost during a lost season. But there are no guarantees Arians can curb Winston's penchant for giveaways. Of all the quarterbacks with more than 320 pass attempts last season, Winston had the highest interception rate at 3.7 percent.
It's not too simplistic to suggest the 2019 Buc season boils down to Arians' reputation and Winston's future.
Can Arians duplicate his run in the desert and can Winston prove his strong finish was no mirage?
That Arians-Glazer postseason summit should be a doozy. Whether it turns out to be a Winston coronation or a shove out the door, honesty needs to rule the day.
Anybody know Bruce Arians to hold his tongue?
Didn't think so.
---
DERRICK BROOKS & IRA KAUFMAN talk about the BRUCE ARIANS hire on TAMPA TWO, presented by Caldeco Air Conditioning & Heating.