"Sizzle"
January 3rd, 2019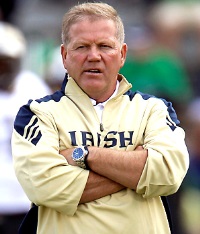 One very-well plugged-in member of the Fourth Estate that covers the NFL said he wouldn't outright dismiss the linkage of Notre Dame coach Brian Kelly to the Bucs.
That would be Albert Breer, the frontman for theMMQB.com. Breer has been hearing chatter in NFL backchannels what Team Glazer is looking for in a head coaching candidate to replace Dirk Koetter and Kelly provides a key element on the wish list.
And that is splash, or as Breer termed it, "sizzle."
Speaking on a YouTube podcast, Breer explained why Team Glazer might be smitten with Kelly.
"They are looking at big names and a big part of that is ownership is wanting to create some sizzle," Breer said of the Bucs' coaching search. "They need a program later. So a guy like Brian Kelly, I can understand why a guy like that makes sense."
Yesterday, David Haugh of WSCR-AM 670 in Chicago, also a columnist for the Chicago Tribune, learned the search firm Team Glazer hired is pushing Kelly towards Tampa Bay.
But Breer threw out another name for Bucs fans to watch out for.
"A guy like Mike McCarthy, a guy that has 13 years experience, head coaching experience, that makes sense too," Breer said. "I think you need somebody with experience coming in there and you need somebody who can build a program because I think that is what is part of what is lacking there."
McCarthy makes sense to Joe only for the following factors: Koetter told America's Quarterback, Pro Bowler Jameis Winston, that he was more like Aaron Rodgers than Tom Brady, and stats back this up (spefically Jameis' strong numbers outside the pocket like Rodgers).
Joe was always mystified why Koetter didn't design more plays for Jameis to roll out if Jameis' strengths are outside the pocket. So who better to build an offense for Jameis than the same guy who built an offense for Rodgers? It only stands to reason McCarthy would help Jameis.