"One!"
January 10th, 2019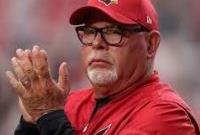 New Bucs coach Bucco Bruce Arians is known as a risk-taker.
In a sitdown with the local pen and mic club today, Arians dropped his famous "No risk it, no biscuit" line (which he earlier had said he did not get from Joe Namath). This seems to flow right with the mentality of gunslinging America's Quarterback, Pro Bowler Jameis Winston.
But Arians make it a point to mention just because he likes to take risks means he tolerates turnovers.
Arians was asked if he was OK with Jameis throwing a pick when trying to gun the ball downfield. Arians shot back and replied, "One!"