New Jobs For Schiano, Cadillac
January 24th, 2019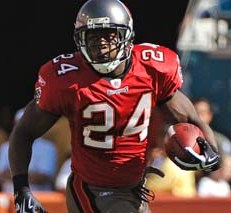 Cadillac Williams was a such a beloved fan favorite in Tampa.
Fans loved Cadillac out of the gate, as his rushing career launched with historic success in 2005. But then the bandwagon grew during and after Cadillac's incredible perseverance through horrific knee injuries. He retired seven years ago and now he's back in the game — the college game — as the brand new running backs coach at Auburn.
Cadillac, 36, was coaching at the IMG Academy in Bradenton before taking a job coaching in the Birmingham team of new AAF. But now he's bolted for his alma mater.
Joe wishes Cadillac well.
On another ex-Buccaneer front, former Commander Greg Schiano, per NFL Network, is expected to take over the Patriots' top defensive playcaller/linebacker coach gig when Brian Flores leaves to be head coach of the Dolphins next month.
For those unaware, Bill Belicheat recommended Schiano for the Buccaneers' head coaching job in 2012. The two sparked a relationship when Belicheat's son Steve played under Schiano at Rutgers. Steve Belichick has been the Patriots safeties coach for the past three seasons.