Jason Licht, Meet The 2011 Detroit Lions
January 2nd, 2019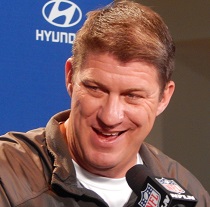 Joe still is struggling to stomach general manager Jason Licht telling Bucs fans on the team website Monday that the 2018 Bucs had one of the greatest offenses in NFL history. "As in when football was invented," Licht emphasized further.
It was an outrageous and ridiculous take, but it really seemed like Licht believed it.
The Bucs had no running game, 3.9 yards per carry, which was tied for second-worst in the NFL. They complemented that with five runs of 20-plus yards, dead last in the league. That Hall of Fame offense Licht referenced? It averaged a paltry 20.8 points through the second half of the season after averaging 28.8 in the first half.
Yes, the Bucs cranked out more than 5,000 yards through the air and threw 36 touchdowns. That was very impressive.
But take a look at the 2011 Detroit Lions, hardly the team you think of when it comes to legendary NFL offenses.
With three NFL no-names sharing the load at running back, those Lions averaged 4.3 yards per carry while Matthew Stafford threw for 5,000+ yards and 41 touchdowns leading Detroit to average 29.6 points per game.
That 2011 Lions offense was more impressive than the Bucs' this year. Meanwhile, three other NFL offenses were significantly better that season. The Saints, Patriots and Packers all averaged more than 32 points per game with Green Bay hitting 35 per game. Keep in mind NFL defensive rules then were pro-offense but not as much as they are now.
Yes, Joe is piling on Licht for his silly comment on the Bucs offense. The offense needs significant work and Joe hopes Licht and Team Glazer completely understand that and address it.
Oh, that extra special Lions offense of 2011? It put up even more yards through the air in 2012 — and Detroit finished 4-12.