"I Love The Natural Energy"
January 26th, 2019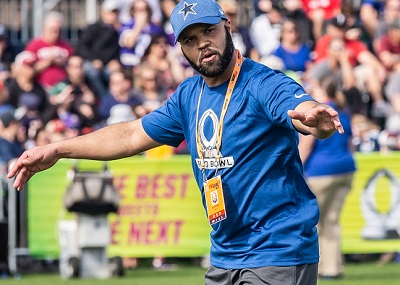 It's rare to interview someone on the record after he exited a Buccaneers business meeting with Team Glazer.
Not quite three weeks ago, Cowboys defensive playcaller Kris Richard was a candidate for the Tampa Bay head coaching opening that went to Bruce Arians.
Joe learned on the Friday before Arians was hired that the team planned to announce his hiring four days later. But in between, Richard had a scheduled interview for the gig that went to Arians after the Cowboys-Seahawks playoff game.
Joe caught up with Richard at the Pro Bowl this week and asked about his Bucs interview experience.
JoeBucsFan.com: Did you meet with Bucs ownership or was it just Jason Licht?
Kris Richard: Yeah, Bucs ownership. Everyone was there.
Joe: Any impressions?
Richard: Oh, I lov'em, man. Yeah, I think they're really good, genuine people. I love the natural energy and optimism. It was a really good vibe.
You can hear the full interview at the 15:25 mark linked here in the Monday Morning Joe podcast. Among other things, Joe asked Richard about his study of the Bucs offense and he zeroed in on Peyton Barber, Mike Evans and Jameis Winston, America's Quarterback.
Joe thinks it's cool and interesting that a high-energy, straight-shooter like Richard got the vibe he did from Team Glazer. And frankly, Joe's glad Team Glazer took the time to meet with Richard while the Arians deal was in the bag.
There's much that can be gleaned from head coach candidates. And as often as the Bucs change head coaches, the more experience Team Glazer can get the better.