Happy 30th, JPP!
January 2nd, 2019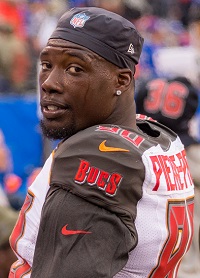 The Buccaneers' defensive MVP turned 30 yesterday and he hit many milestones recently, including his 100th career start.
Team Glazer owes Jason Pierre-Paul $14.7 million next season, and rest assured they'll be happy to pay him for his 10th NFL season.
JPP was a bright spot on a dark, dark season in so many ways. He broke the double-digit sacks barrier (12.5) for the first time since Simeon Rice in 2005. But he was more than that in the run game, and in his interest in making those around him better.
The Bucs wanted JPP to be part of a rotation. That was the plan. But it didn't work out that way; JPP rarely came off the field.
If there's a red flag on JPP, it's his health. He made it very clear many times that this was his most injury-riddled year in the NFL. But he is a special man when it comes to dealing with pain, JPP loves to tell people. JPP believes he can push through anything after blowing his fingers off in his famous accident and fighting through that pain and recovery.
Still, it's likely that JPP's best football is behind him. Joe hopes not, but that's something to consider for the front office and the new head coach. How many more years can this guy play nearly every snap?
JPP says he'll "embrace the change" to a new Bucs coaching staff. Joe hopes that means he'll show up for a few spring practices, just to help the new head coach set the tone.
Enjoy JPP's final news conference below: