"For God's Sake"
January 6th, 2019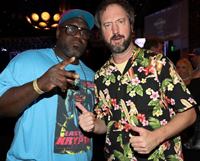 Former Bucs guard Ian Beckles is not much of a fan of a current Bucs starter on the front line.
In his recent "In the Trenches" podcast, Beckles broke down what  players should and should not be kept from the 2018 roster as the Bucs prepare to hire a new coach.
One Beckles has no use for, as Joe listened to Beckles' words, is starting left tackle Donovan Smith, a free agent this offseason.
"I heard rumors of putting a franchise tag on him for God's sakes," Beckles said. "I don't know (sigh). If they put a franchise tag on Donovan Smith, I will definitely throw up in my mouth. Good for him making that kind of money. I am all for people making money. But if you can't find someone better for that kind of money, people in the front office aren't good enough."
The following are quick snippets of what Beckles thought of other players:
Jameis Winston: Beckles essentially said anyone beating the drum for the Bucs to get rid of Jameis doesn't know football. "We shouldn't even be talking about him right now."

DeSean Jackson: "DeSean Jackson will be traded. Now that [the season is] over, I hear he wasn't the best teammate. Sleeping in meetings, tardiness and a lot of bulls(pit). A lot of bulls(p)it that you don't want around when you are trying to build a program full of young, influential football players. So, DeSean Jackson is going to be gone.

Demar Dotson: "Demar Dotson is at the end of his rope."

Adam Humphries: "Adam Humphries is going to get some mo-NEE. He's going to get some money. I thought he played great this year but he didn't fit the system. Man, you give me Adam Humphries with the Patriots or Adam Humphries with Drew Brees or Adam Humphries with Philip Rivers, whew, that guy is catching 100 balls for sure. He stays healthy, stays out of trouble. I thought he had a great season."

Kwon Alexander: "If he is healthy and you want to put a franchise tag on someone, put it on him. That is the guy you build your franchise around. That's me. I don't want to lose Kwon Alexander."

Vita Vea: "To me, he showed me the last six games he has the ability to be a star. He is fire on the field. Way more athletic than I thought he could be."

JPP: "Our spiritual leader."

Defensive linemen other than JPP and Vea: "Throw the bomb on the rest of it and start over."

Gerald McCoy: "Is he a bad football player? Nope. Absolutely not. Are the Bucs better off with him on the team? Yes. Is he worth $12-13 million dollars? Nope. Absolutely not. If we are going to be real with it, absolutely not."
Joe would be OK if the Bucs kept GMC and reworked his contract. But Joe no way would franchise Alexander. Joe likes Alexander a lot but since Beckles is being real, so will Joe.
The defense got better after Alexander was lost for the season. Is that just a coincidence or a cause and effect? Joe honestly doesn't know.
Joe would be a little surprised if Smith left. Pretty sure the franchise tag would be a last resort type of thing for Bucs AC/DC-loving general manager Jason Licht.