Fights & Music Trouble Bruce Arians
January 14th, 2019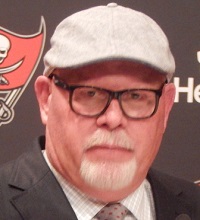 A lot will be different around One Buc Palace with Bucco Bruce Arians now in charge, and the head coach itemized a couple of them for the Salty Dogs Podcast.
Arians sat down with Buccaneers.com co-hosts Jeff Ryan and Scott Smith and the subject of training camp practices against other teams arose.
Yes, Arians is into it and has done it before, but he only seeks teams coached by guys he knows very well to ensure there is no fighting whatsoever.
"If it's another coach that I know and it's just going to be, 'Hey, let's get better' not see who's tougher and all that crap and fighting; there's no place for that in football," Arians said of joint practices in training camp.
As for what an Arians practice looks like, well, they'll probably be a lot quieter. He explained his surprise when visiting team practices for his CBS analyst gig last year how they all had nightclub vibes. .
"I'm not a music guy. The players are going to have to talk me into this music. I might give in," Arians said. "But everywhere I went it was music, even Coach Belichick. who has maybe had it the longest and nobody every knew it. I said, 'Bill, really?' He said, 'Man, we've had this stuff on Fridays forever.'"
For those wondering, the Bucs have had music thumping through practice for years. Heck, the Bucs even got a fancy new sound system, a cool wall of speakers, for the 2018 season. No, nobody every played Ain't It Fun for DeSean Jackson.