Changing The Culture
January 9th, 2019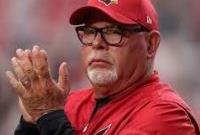 Man, Joe hears so much talk about culture in relation to the Bucs, Joe wonders if he needs to go to the opera or waste time in that dumb Dali Museum in St. Petersburg.
(Column intermission: Once upon a time Joe had a job in downtown St. Petersburg with an office on the waterfront right by Al Lang Stadium. It was there the Rays wanted to build a new park. And the locals went completely apesh!t. The biggest gripe Joe heard in his office was that a ballpark would ruin the waterfront environment. Joe pointed out the window and yelped, "There's already a ballpark there! How exactly is the environment ruined? How many dolphins are washing up on the beach because of that stadium?" The ballpark project failed, of course. Instead, a museum was built there. Did you hear one person complain about how building that dumb Dali Museum would hurt one bird or one fish or one gecko or destroy downtown St. Petersburg? Neither did Joe. But they sure as hell can have car races there each year with racket so loud you have to cover your ears in Port Richey. And birds don't drop dead out of the sky and pelicans don't gore pedestrians on the sidewalk, and snook aren't driven to jump on boats tied up at the South Yacht Basin. But God forbid a 30,000-seat ballpark be built there.)
For once Joe would love to hear exactly what is meant by "culture." To Joe, that's a lazy broad brush stroke.
To read the words of Conor Orr of theMMQB.com, the losing ways of the Bucs are about to change and if that means Bucco Bruce Arians has to drag guys out of the locker room to accomplish this, so be it.
Tampa Bay has been cultureless since the days of Tony Dungy and Jon Gruden. It has been years since the arrival of their team into your stadium meant something. From a bird's eye view, they are the picture of the league's typical cycle of mediocrity: Lose, draft a few transcendent players, marginally improve, panic-sign a ton of free agents to overcompensate, lose with those expensive free agents, and return to phase one again with a new head coach. The opposite could be said of Arizona from 2013-2017, despite some of their struggles to replenish the talent pool through the draft.

Arians can change that in Tampa. He'll likely bring some loyal assistants with him (former Jets head coach Todd Bowles is available, as is his former offensive coordinator, Harold Goodwin, and quarterbacks coach Byron Leftwich). And he'll continue what he started doing in Arizona better than any other head coach in the NFL: Empower and rapidly develop coaching talent in his pipeline. These are good coaches who can exist in the league and take over long after Arians has decided to retire again.

Leftwich took over a broken offense and salvaged part of the Cardinals' latter season in 2018. Goodwin interviewed for head coaching jobs before the Arians regime broke down in 2017, when Arians announced his retirement. Both of them could be future head coaches in the NFL. Arians also promoted James Bettcher, who was very close to succeeding him in Arizona, and remains an interesting name in head coaching circles despite the Giants' lack of success in 2018.
Joe has a sense many changes are coming to One Buc Palace. Arians doesn't have time to screw around. For all we know he only has three years left in him (he signed a contract for four seasons).
Joe is sure the next few years will be anything but boring.