Carson Palmer Talks About Jameis Getting A Technical Cleanup
January 17th, 2019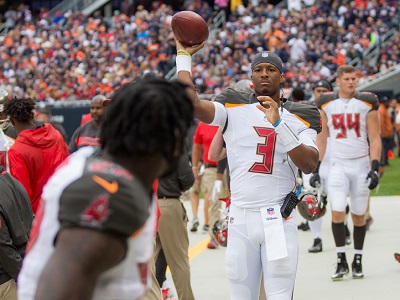 Former No. 1 overall pick quarterback Carson Palmer was a 33-year-old living an NFL hell of three consecutive four-win seasons when Bruce Arians brought him to Arizona to lead his team in 2013.
Palmer proceeded to go on a 29-9 run as a starter and return to the Pro Bowl after a nine-year hiatus.
It's fair to say Arians resuscitated his career.
Palmer was telling NFL.com that Arians will work similar wonders with America's Quarterback, 25-year-old Jameis Winston.
"They're going to be great together," Palmer said via this cut-and-paste quote from ProFootballTalk.com. "It's probably the best thing that could've happen to Jameis at this point in his career. Getting a guy like B.A. to come in and clean up some things technically. And really installing what he does best and that's push the ball down the field. He finds ways to get the ball down the field to Mike Evans with DeSean Jackson there and speed on the outside. His passing game, his vertical passing game is just different. It's hard to defend. You don't see it throughout the league. Every team doesn't do what he does. That combined with the way that Jameis can throw the ball down the field with accuracy, I think it's a great tandem."
Interesting to hear Palmer say Jameis will get cleaned up technically by Arians. New Browns head coach Freddie Kitchens was his QB coach for years in Arizona. Jameis will have Clyde Christiansen, who Arians says is among the very best in the business when it comes to mechanics.
Of course, Arians will be overseeing all things Jameis.
So what are Jameis' technical flaws? Joe looks forward to Arians answering that question.