Byron Leftwich: Bruce Arians Cussed Me Out To Get To Ben Roethlisberger
January 19th, 2019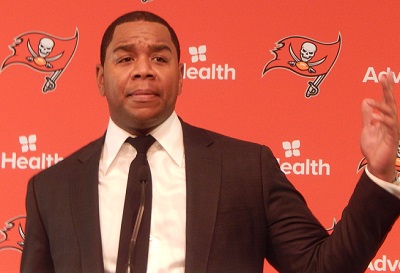 New Buccaneers offensive coordinator Byron Leftwich says being a quarterback guru is a lot about the QB-coach relationship and understanding, plus effective and sometimes unique communication.
Leftwich's chatter on that subject was one of the more interesting aspects of his introductory news conference yesterday.
He explained that his great personal growth as a quarterback/future coach came when he arrived in Pittsburgh in 2010. Bruce Arians was the offensive coordinator and Ben Roethlisberger was the starter.
"I think that's when I really started coaching, too, to be honest with you. I was the backup to Ben [Roethlisberger]," Leftwich said.

"… Going [to Pittsburgh] and slowing down and being the backup, it allowed me to see the way I played the game and the way that [Roethlisberger] played the game, and see that there's a whole lot of different ways to get the job done. And that in itself made me a completely better coach and a completely better player. Just being around a guy with that unique skillset and see the plays that he would make on a daily basis to understand that you can do this thing a lot of different ways once you have an understanding of what your quarterback can and cannot do."
Leftwich, 39, went on to say the timing of communication with a quarterback is an art form rooted in understanding the position at the NFL level, something Arians has mastered.
"I remember [Arians], we were in Pittsburgh, he cussed me out one day, I wasn't even playing. And I knew it was for Ben. You know, it's just having an understanding of the dynamics. It was not the time to say that to Ben. It was to say it to me so I could relate it to Ben, you know, later on two, three plays later. And that's just having that sort of understanding of the position. Because it is a unique position.

"Playing quarterback is unlike anything else; it's different, it's fragile. It's a whole lot of different things that when you're in that room, when you're coaching that room, you have a true understanding of that.

"Just demeanor, just having an understanding, knowing when to say certain things, knowing when not to say nothing, let the player play. And that's what I picked up from [Arians] the most, besides the Xs and Os. We all know he's great at Xs and Os. But just those types of things, just relationships, communication, just the human element of playing this game."
Yes, America's Quarterback, Jameis Winston, is in good hands. Still, Leftwich is very new in his role and Arians hasn't worked with a young franchise quarterback in seven seasons, Andrew Luck in 2012.
It'll be interesting to see if there's much of a learning/adjustment curve for all involved.
---
Why is Ira wearing a No. 4 Bucs jersey??? TAMPA TWO marches toward the Super Bowl, and in this episode Bucs legend Derrick Brooks and Ira Kaufman dive into Sunday's games.
TAMPA TWO is presented by Caldeco Air Conditioning & Heating, via The Identity Tampa Bay and JoeBucsFan.com.