Zero Tolerance
January 28th, 2019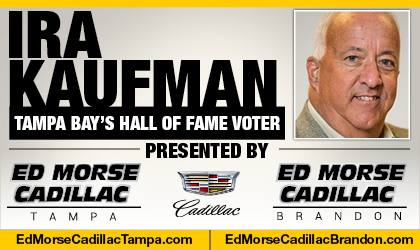 BY IRA KAUFMAN
Yeah, Mr. Iverson, we talkin' about practice.
When Bruce Arians was a younger man, he couldn't tolerate lousy practice habits. That's when he reached for the Maalox and the wine glass.
The F-bombs came out routinely and players were blistered with tough love.
Now, at the age of 66 and knowing there's an array of medical issues behind him, Arians isn't inclined to go easier on these Bucs. He doesn't intend to cut anyone slack, starting with OTA sessions and extending right on through the 2019 season.
That's a big reason why Arians was the choice to replace Dirk Koetter. He's not above calling his guys out, even in public, if he sees lack of effort or poor decisions.
Even Todd Monken acknowledged last summer that Tampa Bay's 2017 practices should have been held to a higher standard. And toward the end of the 2017 season, Jon Gruden told me that Buc practices were "sloppy," adding the ball was on the ground far too often.
Arians isn't here for the long haul, so he's going to make his mark quickly and he's not going to grade on a curve. Like his mentor, Bear Bryant, he's not worried about bruising egos.
The way he sees his job description, Arians figures he's here to squeeze the most out of what he deems a talented roster.
That means M.J. Stewart will have to grow up in a hurry.
That means Chris Godwin will have to raise his game.
That means Mike Evans and Jason Pierre-Paul have to give even more.
That means Jameis Winston has to answer all the nagging questions.
"I like yelling at the very good ones," Arians says. "The other ones get the message."
Arians won't treat everyone the same, but he won't play favorites, either.
In Arizona, he had no problem letting Larry Fitzgerald know about those few occasions when he messed up a route or exhibited poor technique. If he can critique a future Hall of Famer, imagine the juice when Arians gets a load of Caleb Benenoch.
"He'll be all over you and you'll think the world is crashing down on you, that he wants you on another team," says Carson Palmer. "Then Coach Arians brings you in and loves you up a little bit."
This new regime could represent a major leap forward in accountability, and that's never a bad thing.
Some players won't appreciate being called out by Arians in front of a podium, but who cares as long as it drives them to be their best selves?
Here's advice for these Bucs, young and old … don't loaf.
One year during training camp with the Cardinals, Arians had seen quite enough. He gathered the team together and spoke straight from the heartburn.
"You'll either be flipping burgers and bagging groceries, or you might be here," Arians said. "That's your choice in about three weeks because if you practice like you did, you ain't getting in the game next Friday night."
You can't cheat on this guy's watch. He's seen it all, from the fakers to the overachievers, and he knows a diva when he sees one.
Just ask Antonio Brown.
Ira Kaufman began covering the NFL as a New York Giants beat writer in 1979. He arrived on the Buccaneers beat in 1985. The corporate leash was removed from his neck when he joined JoeBucsFan.com in July 2016. The award-winning Ira Kaufman Podcast fires twice per week, and Ira's columns appear thrice weekly, except when Ira is on special assignment. Tampa Bay's only Hall of Fame voter also is a popular guest on various national radio and on local TV.