Fix The Offense
January 19th, 2019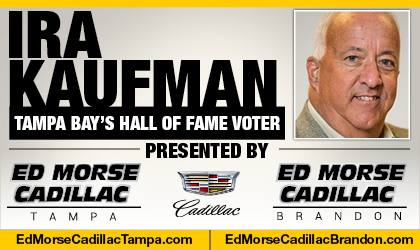 BY IRA KAUFMAN
With one eye on the Buccaneer roster and the other on the remaining NFL playoff field, Bruce Arians is formulating his 2019 game plan.
The Chiefs, Saints, Rams and Patriots were the top four seeds heading into the postseason and they just happen to be the four highest-scoring teams in the league this season.
Coincidence? I think not.
Given the league's ongoing love affair with overworked scoreboards, defense-oriented clubs like the Bears and Ravens can only go so far in January.
Even with all those downfield completions, the Bucs finished only 12th in scoring offense, averaging 24.8 points. That's more than 10 points per game less than Kansas City, the only club in NFL history to score at least 26 points in every game during the regular season.
If I'm Arians, looking at all those numbers and fully aware that the agenda of the Competition Committee is to generate more points, my first priority is to boost scoring.
Two Culprits
Let Todd Bowles handle Tampa Bay's defensive woes, which are well documented. Bowles has been lauded as a defensive guru, so give him a free agent or two and a rookie cornerback who can contribute immediately and let him do his thing.
Two culprits loom large on the offensive side of the ball. The Bucs led the league in giveaways and they couldn't run effectively. It's no revelation to suggest those two flaws were linked.
Tampa Bay threw 26 interceptions, also an NFL-high, putting too much strain on a porous defense.
Why so many? A plodding rushing attack rendered play-action ineffective and knocked Tampa Bay's offensive balance out of whack. For example, the Bucs ran on only 36 percent of their snaps. The Patriots, with a Hall of Famer under center, ran on 45 percent of their snaps. Anybody expecting Jameis Winston or Ryan Fitzpatrick to end up wearing a gold jacket?
While it's true that Tampa Bay's offensive game plan was occasionally blown up by big halftime deficits, it's also true the Bucs averaged only 3.9 yards per carry.
And it's also true that the Bucs registered an NFL-low five carries of at least 20 yards. Add in the absence of a single 40-yard run and you have a rushing attack with the fewest explosives in the league.
The answer, my friend, is blowin' in the offseason wind.
Battling Brady
Jason Licht and his scouting staff have to acknowledge past mistakes in the draft and provide Arians with the proper elements to get this ground game going after three years of futility.
Ronald Jones could not have shown less as a second-round pick. He couldn't catch and his average gain of 1.9 yards was the lowest of any back in the league with more than 11 carries.
Dead last.
Put it this way: Jones and Tom Brady each carried the ball 23 times and Brady came within nine yards of matching Jones' production.
Every Buc fan knows the team needs a new starter at right guard, where Alex Cappa couldn't beat out Caleb Benenoch. That kind of says it all. Arians is already on record as saying this offensive line needs a significant upgrade — and he hasn't even seen the film yet. Focus on the line and add the right running back and this just might become one of the top four offenses in the league next fall.
And if that happens, January could be very interesting.
Ira Kaufman began covering the NFL in 1979, as a New York Giants beat writer. He arrived on the Buccaneers beat in 1985. Eventually, the corporate leash was removed from his neck when he joined JoeBucsFan.com in July 2016. The award-winning Ira Kaufman Podcast fires twice per week, and Ira's columns appear thrice weekly, except when Ira is on special assignment. Tampa Bay's only Hall of Fame voter also is a popular guest on various national radio and local TV programming.
---
Why is Ira wearing a No. 4 Bucs jersey??? TAMPA TWO marches toward the Super Bowl, and in this episode Bucs legend Derrick Brooks and Ira Kaufman dive into Sunday's games.
TAMPA TWO is presented by Caldeco Air Conditioning & Heating, via The Identity Tampa Bay and JoeBucsFan.com.