Bruce Arians Relationship With Jameis Runs Long, Not Deep
January 11th, 2019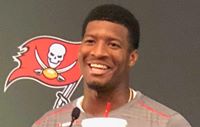 Much has been made of the long connection and relationship between Jameis Winston and his new head coach/quarterback whisperer.
But perhaps that's way overblown.
Yes, we've heard how Jameis impressed Bucco Bruce Arians at a football camp in Alabama a dozen years ago. He's told the story in past years and Jameis also has talked about how Arians showing campers his Super Bowl ring was a life-changing moment for young Jameis.
But what about since then?
Yesterday, Joe asked Arians to characterize his relationship with Jameis for the past five years. Arians didn't have much to say, which leads Joe to believe they will be sort of starting fresh with each other in Tampa.
"I always looked him up when we played him, told him to keep on going it's going to be fine," Arians said. "This is actually the [Super Bowl] ring I showed him, I think, when he was in 9th or 10th grade and evidently it made an impression on him. He definitely made an impression on me in that football camp; that's for sure."
Joe thought maybe Arians would talk about time they spent together during an offseason, or at least in Tampa back in this preseason when Arians called a Bucs game for CBS. But that's not the case.
Is their relationship before now really important? No. But Joe thinks it's important to realize that Jameis and Arians aren't old drinking and fishing buddies or old family friends.
They're basically starting fresh but with a mutual football respect that's been in place a long time.