Bruce Arians Is Eager To Scout Quarterbacks
January 11th, 2019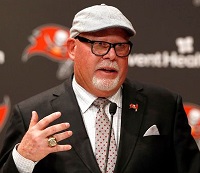 Joe was eager to talk to the resident Tampa quarterback whisperer, new head coach Bucco Bruce Arians, about scouting quarterbacks and competition at the position.
Arians seemed just as eager to answer Joe's questions yesteday.
JoeBucsFan.com: Coach, you've said before that if you have two quarterbacks, you have none. Do you think that was part of the problem with the Bucs last year.
Bruce Arians: That's my philosophy. I think sometimes they were both looking over their shoulder. You know, one would do well for one week then struggle and put the other one back in. That's not me. We got a guy; he's our guy. Hopefully we can get that room extremely competitive behind Jameis so we can win with them if something happens.
Joe: Do you scout quarterbacks every year in the draft?
Arians: I have every year. Even thought we didn't need one, I just liked ranking them when they were coming out of college and then watching them be successful.
Joe was intrigued by Arians saying he scouts quarterbacks, and he flashed a broad smile when he did. Dirk Koetter often said he didn't spend time looking at QBs because the Bucs weren't going to draft one.
What will Arians think of the 2019 QB class? How much draft capital would he consider investing in a QB? Third-round? More? Less?
And how does Arians' life motto, "No Risk It, No Biscuit," apply to the draft?