Bruce Arians: Bucs "Loaded" At Running Back
January 28th, 2019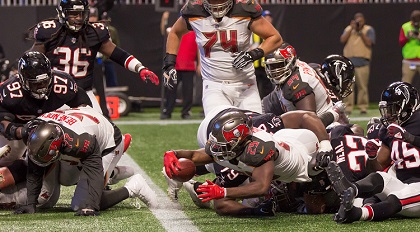 If you listen to Bucco Bruce Arians' very recent words about the Bucs offense, you can tell he thinks the quarterback and offensive line positions need work.
But he's extremely bullish on the other positions, including running back, which is a bit of a surprise.
"There's been issues with turnovers offensively, and some are technical, some are decisions. Those are things we have to correct with coaching," Arians told CBS Sports Radio last week. "But as far as wide receivers, running backs, tight ends, skill players, oh my gosh, we're loaded. We've gotta to work some up front. But there were times, you know, first game of the year they put up almost 50 in New Orleans. So there's talent."
Joe found that running backs chatter intriguing from the head coach.
Last week at the Pro Bowl, Joe talked to Cowboys defensive playcaller about the Bucs offense, Kris Richard, and without being asked, he spoke glowingly of Peyton Barber before any other Buccaneer. Joe knows Barber has many other fans in league circles, as well.
But forget about Barber for a moment, do Arians' comments mean he believes in the college film of Ronald Jones?
Joe wouldn't want to be a Buccaneers offensive lineman this offseason unless the last name is Marpet or Jensen.
---
ORDER YOUR ABE'S PLACE WINGS NOW!!  You know what's coming Sunday. And why not enjoy the big game with the literally world famous wings at Abe's Place in Clearwater. Place your order NOW.