Add Kris Richard To The Bucs' Candidate List
January 2nd, 2019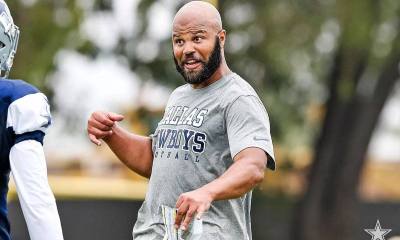 Secrets aren't well kept when it involves a coach of a Dallas Cowboys team alive in the playoffs.
For those unaware, the guy unofficially running the Dallas defense is Kris Richard. He calls the shots on game days with Rod Marinelli owning the title of defensive coordinator.
Per Ian Rapoport of NFL Network, Richard will interview with the Bucs, Jets and Dolphins after the Cowboys' playoff game against the Seahawks on Saturday night.
Richard, 39, is known for his energy and fire, and for playing five years as a cornerback in the NFL. He jumped into the NFL coaching ranks nine years ago with the Seahawks, the team that drafted him back in 2002. He worked his way up to defensive coordinator (2015-2017) before leaving the nest and heading to Dallas.
It's hard to find anyone who doesn't gush about how Richard coaches and gets his players to play hard.
How Richard would approach crafting his offensive staff is a total unknown.
What's clear is that a lot more Bucs fans will be watching the Cowboys-Seahawks game closely.