"Violent"
December 18th, 2018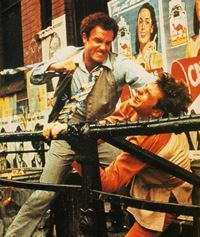 Bucs rookie defensive tackle Vita Vea is about the polar opposite of an stereotypical NFL player behind the scenes as you may ever see.
Aside from his size (he's a very large man), Vea is as chill as a human being can be. Quiet to a point you would think he's a mute, easy-going, calm. None of the traits you would find among defensive tackles on an NFL field.
And maybe Vea was being himself too much on the field which was why for the most part, Vea has had a disappointing rookie season for the Bucs.
But it was a post-practice chat he had recently with Bucs AC/DC-loving general manager Jason Licht that may have flipped the switch on the gentle giant.
The topic of the conversation? Vea told reporters yesterday was to be "violent." It's a word Vea brought up several times. He called it the secret to his turnaround.
"I feel as a d-lineman you have to be violent," Vea said in almost a hushed mumble — he really doesn't like to talk only because he is so laid back. "In the position we play in, it demands it. You have to be violent in there to get the job done."
Vea said everything began to click when he had his one-on-one with Licht a few weeks ago.
"He just came up to me after practice and told me to be violent," Vea said of his meeting with Licht. It was the same thing Vea said he heard from assistant defensive line coach Paul Spicer. But something about hearing the same message from the guy who runs the football operations for the Bucs hit home for Vea.

"Just hearing it from [Licht] and finally seeing the bigger picture and coming back in the meeting room and finally understanding what [Spicer] is telling me, finally everything made sense."
Joe had given Vea a big-time mulligan and sort of written off his rookie year. Why? Vea basically had no preparation for the season. He hurt his calf on the very first day of hitting in training camp and didn't start practicing again until mid-September.
That's tough for veterans to overcome but for rookies, that's a disaster. Vea admitted he is just now catching up.
"I knew I had to get back into the game," Vea said of being sidelined right away. "Being that I was out in training camp and stuff I tried to rush back in and thought everything was going to happen like that — [snaps finger]. I left little things out.

"I thought I was going to come out and play like I did in college and it doesn't work like that."
Vea easily has had his two best games of his young NFL career in the past two weeks. Against the Crows, he began to show why he was a first round pick. Even his harsh critic, former Bucs guard Ian Beckles gave Vea props.
Who knows what is going to happen with the Bucs in the coming days. If Team Glazer has a housecleaning, Licht could be out on the street as well.
Given how Licht worked magic with a simple conversation with Vea, perhaps Licht could find a solid second career as an NFL player consultant. A guy could make serious coin with that.
You can hear Vea mumble discuss his ah-ha moment with Licht in the video below.
"He just came up to me in practice and told me to be violent… Going back in the meeting room and finally understanding what coach is telling me, finally everything is making sense."

🗣️ » @VitaVea on conversation with GM Jason Licht#GoBucs pic.twitter.com/YJ0hMlGUSx

— Tampa Bay Buccaneers (@Buccaneers) December 17, 2018