TV Map For Bucs-Crows
December 15th, 2018
Not a whole lot of the nation will get to watch the Bucs-Crows tomorrow on free TV from their local FOX affiliate.
Unless one lives in the Sunshine State or in coal mining country, one will need NFL Sunday Ticket or to run to a bar, or to the game in Baltimore.. Fossil Dick Stockton and Mark Schlereth will be at the mic.
Of course, Joe always recommends taking in the Bucs game and the full slate of NFL action at Abe's Place in Clearwater. The menu rocks.
Much of the nation will be treated to the Cowboys-Colts game.
As always, this NFL TV map for Sunday's FOX broadcasts is courtesy of 506sports.com.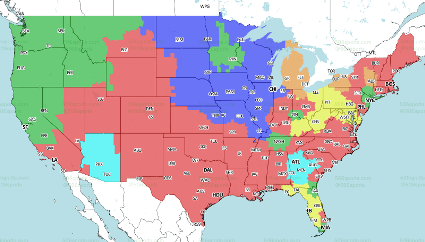 Alaska and Hawaii will get Seattle at San Francisco.
Yellow: Tampa Bay @ Baltimore.
Red: Dallas @ Indianapolis.
Blue: Green Bay @ Chicago.
Burnt Orange: Detroit @ Buffalo.
Licht Blue: Arizona @ Atlanta.
Green: Seattle @ San Francisco (LATE).